October 28, 2019
The ISM Annual Membership Meeting was held Saturday, Oct. 19, 2019.
Minutes of the 2019 Membership Meeting
Call to order: An annual meeting of the Iris Society of Minnesota was held at the Eastside Co-op in Minneapolis on October 19, 2019. The meeting convened at 1:30 PM, President Tatiana Allen presiding and Marte Hult, recording in absence of Secretary Andrea Luck. The meeting agenda was approved.

Members in attendance: Tatiana Allen, Holly Johnson, Elsie Riggs, Marte Hult, Stacy Aderman, Rick Aderman, Shyann Aderman, Katerina Bergeron, Alicia La Munion, Jack Worel, Bill Turner, Jeff Allen, Harry Lefto, Sue Christensen, Kim Fealy.

Approval of Minutes: Marte Hult read the minutes of the 2018 annual meeting. Tatiana moved the minutes be approved, motion was seconded and carried.

General Election: Nominations and Voting on 2-year-term officer positions.
Tatiana nominated Stacy Aderman as Treasurer. Seconded by Holly Johnson. No further nominations. Approved unanimously.
Tatiana nominated Marte Hult as Secretary. Seconded by Katerina. No further nominations. Approved unanimously.
Marte nominated Tatiana Allen for reelection as President. Seconded by Katerina. No further nominations. Approved unanimously.
Tatiana nominated Bill Turner and Alicia La Munion for reelection as Directors. Seconded by Rick and Stacy respectively. Approved unanimously.
Stacy nominated Rick for a Director position. Seconded by Holly. Approved unanimously.

Board and Committee Reports:

Membership and Website Chair Report: Marte Hult reviewed the membership statistics, showing growth of 21 members from 2018 to 2019. She reviewed statistics that suggest outreach to members remains a concern, since email campaigns generally only result in approximately 60% of members opening sent emails. Harry suggested using text messaging instead of email, and Elsie suggested mailing via US mail. A general discussion of how to increase member participation followed, including discussion of social media pages. Alicia described a service called Dial My Calls, which automatically can send calls and texts. She will explore this option further, and future membership enrollment forms may include an opt-in to be contacted by text.

The website report showed a spike in hits in December with average daily visits varying from 101 to a high of 471, most probably because of search engine image hits.

NEMMIG Liaison Report: Tatiana Allen reported that it was a challenging second season for NEMMIG, largely because of lack of promised assistance from ground-keeping staff, who did not apply Preen or provide weeding assistance this year. Blooms were amazing with non-stop displays of large clumps of flowers. There was a lot of rot in the spring so the golf course was asked to turn off the sprinklers. There were not enough volunteers for weeding so the volunteers we did have almost burned out. There will be an effort to secure a better partnership between the iris garden and the park board, or the garden will fail. Twenty six new cultivars were added to the garden, donated by Schreiner's. We did manage to document each bloom on the NEMMIG facebook page.

Arboretum Liaison Report: Holly Johnson. The Iris garden has appointed a new gardener, Scott Stanley, who is very enthused about getting them in tip top shape. After the dig, he amended the areas where we removed iris, and the plantings from this year's dig are looking pretty good this fall. The area of the Siberian bed that was amended last year has grown very nicely, and those cultivars were already producing better blooms than the older established clumps in that main bed where the soil has not been amended. In the bearded iris beds, there are many blank spots that still need to be filled. We did add 17 new cultivars into the garden; some were brought over from the Northeast Iris Garden, and Jack Worel and Traci Skinner-Rowlett donated some for planting. Unfortunately, we still have many empty spots. There are also many secondary clumps at the Arboretum that the curator would like to see replaced with something different. At current count, we need about 50 cultivars for replenishing the garden. The Iris Society members have usually provided the iris for replanting, but if necessary, we may have to look at buying some iris to fill these spots, using money from the sales. It is preferred that the cultivars added to the garden have earned at least some sort of award, even Honorable Mentions, or are very new introductions. We should concentrate on adding either Tall Bearded, Border Bearded or Miniature Dwarf Bearded classifications, since we have plenty of the other classifications, and the Tall Bearded iris are our best sellers at the Sales. If anyone has a cultivar from the other classifications, they should be top award winners for their classes to warrant making space for them. This is a lot of irises to buy and it would be helpful if we could get several members to donate 5 rhizomes each of cultivars that are not currently planted at the Arboretum. Holly had the current list of all iris that are planted at the Arboretum sent to all members, so that everyone could see what cultivars are already there. We could plant more from the Northeast Iris garden, but doing so would reduce the number of different cultivars that we will be able to provide on a regular basis during our sales, and it may result in a lot of rhizomes of the same cultivar being dug at the same time. In the past, many of our members have obtained some newer introductions during the auctions held during the digs and sales at bargain prices. It would be appreciated if members could donate increases from any of these newer cultivars, even if they aren't award winners, provided they have been introduced after 2000, after 2010 would even be better. Holly asks that all iris that are donated are verified as to their identity, so that they will not need to be removed at a later date. Holly has worked a lot of long hot hours in the Arboretum Iris garden to make sure that what is planted out there is correctly identified, and it doesn't take long to verify the identity of the cultivars that are grown in a home garden. Just mark them when they are blooming.

In another matter, starting in 2020, the Arboretum will be charging us to use the McMillan Auditorium. It will cost us $382.50 per day, and Friday night would be an extra charge. The Arb will allow us to do an Early Saturday Morning set-up, but there would be an additional fee of $65 per hour to enter the room earlier than 7:30am. Holly verified that Saturday and Sunday, August 15th and 16th are still available, but Friday the 14th was already booked for an event, so set up would have to be Saturday Morning. The other option at the Arboretum is to have the sale in one of their outbuilding shelters near where they hold the Art in The Park, for no charge. At last contact with the Daffodil Society, they would be willing to share 1/3 of the cost of the room, at least for this coming year, but they are going to be looking at different alternatives for the 2021 season.

General discussion followed Holly's report, including ways to fill spots; clumps vs. individual cultivars. Harry wondered why there were so many individual irises instead of large clumps. Holly will talk with the Arb about getting bigger clumps, but the Arb is intended to be a display garden. Katerina doubted that any members would be able to contribute 5 rhizomes of a high quality iris. Jack suggested contacting hybridizers, especially new ones, to see if they would donate to the Arboretum. He will do this. It was agreed that the cost to rent the Arb room is worth it, since sales are so good there. We will pay the room rental instead of donating a cash gift to the Arboretum as we have done in the past. Bill wondered if there are any spurias at the Arb. Holly replied that there are some, maybe half a dozen.

Digs Chair Report: Holly Johnson. There was a great turnout of members at the Arboretum for the 2019 Dig. For future events we need people to sign up ahead of time so we can have an idea as to how much help we can expect on the day of the event. Because only about 9 people had pre-registered, Holly thought we were going to be short-handed and she took it upon herself to dig out some of the iris early and get them partially processed so there would be a jump on things the day of the dig. Holly was very glad that about 20 members did show up for the dig, making the rest of the day go smoothly. The 2019 dig resulted in a little over 100 different cultivars being dug and processed.

Holly also wanted to give a special thanks to Jack Worel, Jennifer Pottebaum, Jean Ahlers, and Stacy Aderman for coming to her house on the Thursday before the sale, to package over 30, 5-gallon buckets of Siberian and Louisiana Iris. Without their help it would never have been completed on time. Because of difficulty in re-watering after packaging, Holly proposes that moving forward, we pack the Siberian and Louisiana Iris in damp peat moss for all future sales.
All in total, for the first day of the sale at the Arboretum, there were over 220 different cultivars to offer to the public. None of this would have been possible if not for the time volunteered by our club members. Thank you to all who participated, to make the digs and sales a success!

Shows Chair Report: Alicia La Munion reported that the June 1 Show turnout was good. There were 84 different cultivars. Queen of the Show, Daughter of Stars, was entered by Robert Reed. Holly Johnson earned the most blue ribbons (10), followed by Marte Hult (7). Holly and Marte received AIS medals. There was a short discussion about 2020 show dates and the difficulty of choosing dates with our erratic weather patterns.

Learning and Development Chair Report: Tim Moore. No report was submitted.

Sunshine and Condolences Chair Report: Gerry Moore. Katerina reported that there were only two expenses for sunshine flowers this year. Within budget.

Arboretum Chair Sales Report: Bill Turner began by thanking everyone who participated in making the sale a success. Sales figures are included in the Treasurer's report. A discussion followed: the use of credit cards likely increased sales by a goodly amount, two weddings on Sunday impacted Sunday sales because it was difficult to maneuver through the area. The weddings were moved inside because of rain, but there would not have been as many people at the Arb on a rainy day anyway. There were not enough handouts; we ran out of them. There was a discussion of having color coded signs to identify irises of different types, but a lack of room. Descriptions could be hung along with pictures of irises in clumps, rather than individual when possible.

Treasurer Report (Handouts): Katerina Bergeron went over the balances, income and expenses. Income exceeded expenses this year. The ending balance was $20,285.03 plus a CD maturing in April 2020 for $5483.49. Katerina summarized the current and proposed budget. There is an increase in Art in Bloom in order to sponsor two entrants, an increase in amount budgeted for the President to attend the national convention, an increased amount for buying auction irises (the auctions actually made money, which was not the intent!), an increase in food budget for the dig, an increase in Arb liaison and ISM club membership, additional budget items of a member bus tour and storage unit rental, and T-shirts, and since we are not sure how much the Arb fees will be, Katerina moved that we increase the Arb room rental amount to $1000. This was seconded by Holly and motion passed. There was a short discussion about the bus tour. Tatiana moved that the budget be approved as amended and Stacy seconded. Motion passed.

New Business

Call for Committee Chairs (each position appointed for 1 year):

Parliamentarian (new for 2020) Tatiana nominated Jeff, Bill seconded. Motion passed
Member Engagement/Activities Chair & Committee (new for 2020). Position Open
Learning and Development Chair & Committee. Alicia will serve on committee but not Chair. Chair Position Open.
Media Relations (Advertising) Chair. Position Open
Iris Show/s Chair. Alicia volunteered.
Volunteer Coordinator. Alicia agreed to continue in this position, Kim on committee.
NEMMIG Webmaster. Holly volunteered.

Proposed 2020 Calendar
Many of the dates on the proposed calendar are tentative. No 2020 calendar will be posted on the website until dates are finalized.

Holiday Party
Alicia will organize the Holiday Party. Discussion centered on location and dates. Most members prefer that the party be pot-luck but most venues will not allow renters of their facilities to bring their own food. Katerina will check with Eagan community center. Marte will check with Plymouth Creek Center. No one volunteered to organize/ plan an awards banquet/party in July.

New Business from the Floor
Jack would like an additional traveling trophy for the early Show winner. Show expenses are budgeted and he will purchase this trophy.

Bill asked for the dates for the 2020 national convention at Presby. May 19-23, 2020.

Stacy explained the daylily society "Adoption" program. Volunteers who work at two or three events receive a new cultivar and when the plant increases, the adopter keeps one division and the others are returned to the society. This would be a way to increase participation and also add to the collection at the Arboretum. Everyone agreed this would be a good idea. Stacy moved that the budget be amended to include $300 for adoption irises and Rick seconded. Motion passed. Jeff moved that a new committee be added: the Adoption committee. Bill seconded. Motion carried.

Katerina moved that in order to get 50% discount at sales, volunteers need to have attended at least two events or activities. All other members would receive 10% discount. Tatiana seconded. Motion carried. It was agreed that it would not be necessary to track since active members know who is active in the society.

Holly suggested purchasing more signage (two sided) for Arboretum sales to be posted on the grounds. There is money in the budget for this.

Jack moved to adjourn the meeting. Stacy seconded. The meeting was adjourned by Tatiana at 3:50 PM. Everyone who attended the meeting received door prizes (iris gift certificates) worth from $25-$50. Thanks also to those who brought great snacks! (or should we say lunch?)
---

May 27, 2019

Annual Iris Society of MN Juried Iris Show
The Annual Iris Show is to be held on Saturday, June 1st, 2019 in The Heritage Room of Bachman's at 6010 Lyndale Ave S, Minneapolis, MN 55419. Set up will start at 8am, and judging will take place from 10 AM until noon. Public viewing hours are from 12pm - 4PM. Anyone who grows a named iris may participate! Just cut your iris in the morning and bring it from 8 AM to 10 AM, and we will help you display it for judging! Show schedule here.
---
February 14, 2019
Happy Valentine's Day! Jack Worel has written an overview for Region 8 on how to become an iris judge! Perhaps you would be interested?
Jack's instructions:
Region 8 American Iris Society
TO BE A JUDGE
STUDENT: To become a student, join AIS, take 10 hours Judges Training over 3 years as a student and notify your RVP or training coordinator.
APPRENTICE:
1. Get recommendation of 5 judges (form provided)
2. Give list of 10 hours training as a student to your training coordinator.
3. Get a Judges Handbook.
4. Be a member of AIS for three years.
APPRENTICE DUTIES TO BECOME A JUDGE
1. All duties or requirements to be completed in 3 years.
2. Judge seedlings and named iris in the garden under two judges,
two hours each.
3. Take 10 hours additional Judges training (keep track)
4. Make sure 2 hours of training is for Awards & Balloting, if not taken
as a student.
5. Filll out Regional activity report each year (August 1-July 31)
6. Fill out practice ballot that is sent each year.
7. Apprentice with a Judge judging 2 iris shows.
The Regional Vice President or the Regional coordinator will recommend you to become an Exhibition and Garden Judge, which is approved at an AIS fall board meeting in November.
For help or additional information contact: Jack Worel, 10930 Holly Lane, Osseo, MN 55369. jworel@aol.com
8** Remember to keep records of your work!
---
April 29, 2018

There are so many great ISM events coming up this spring and summer. Volunteers are needed for the following:

1. Iris Society of MN at Northeast Minneapolis Farmers Market!
The Iris Society of MN will have an information booth at the Northeast Minneapolis Farmers Market on Saturday, May 19th, From 9 AM to 1 PM. Stop by and get more information about growing irises and the newly planted Minneapolis Iris Gardens, and talk to experts about your iris questions! It is the opening day of the market, and there is also a fun run scheduled. Location: St. Boniface Church Parking Lot; 629 2nd St. NE., Minneapolis, MN 55413

We will also have a booth here on June 9, August 25, September 1, and September 8. We will sell plants and rhizomes at the booth, with members getting half of the price and the ISM the other half. A good way to get rid of your extra irises, make a little money, and help your society. Let us know if you can volunteer or if you have plants to sell.


2. Northeast Minneapolis Municipal Iris Gardens Inaugural Iris Show and Opening Ceremony
The Northeast Minneapolis Municipal Iris Gardens, which were planted last summer at Columbia Park by the Iris Society of Minnesota in cooperation with the Minneapolis Park Board, will have its first bloom season this spring. A juried Iris Show and Mayoral ribbon cutting ceremony is planned for Sunday, May 20, 2018. The ribbon cutting ceremony will take place at noon outside in the Gardens, weather permitting. The juried Iris Show will be held concurrently inside the Manor, in the fireplace room. Anyone who grows a named iris may cut and bring their irises from 8-10am to display and compete in the iris show. Participation is free and fun! Judging will take place at 10am. The Iris show will open for public viewing at noon, following the ribbon cutting and Mayor Frey's remarks. Cake donated by Lund's will be served, and there will be an Iris coloring station set up for artists of all ages. Show schedule here.
Follow the Iris Gardens on Facebook and get a sneak peek at what's blooming before you go! https://www.Facebook.com/NEMMIG


Event Address:
Columbia Manor- 3300 Central Ave NE. Minneapolis MN 55418
Event Date:
Sunday, May 20th, 12pm to 4pm


3. Annual Iris Society of MN Juried Iris Show
The Annual Iris Show is to be held on Saturday, June 2nd, 2018 in The Heritage Room of Bachman's at 6010 Lyndale Ave S, Minneapolis, MN 55419. Set up will start at 8am, and judging will take place from 10 AM until noon. Public viewing hours are from 12pm - 4PM. Anyone who grows a named iris may participate! Just cut your iris in the morning and bring it from 8 AM to 10 AM, and we will help you display it for judging! Show schedule here.

6010 Lyndale Ave S, Minneapolis, MN 55419
Saturday, June 2nd, 2018 8am-4pm


4. Get Sociable for the Iris Gardens!


Swing on by Sociable Cider Werks, official community partner to the NE Minneapolis Municipal Iris Gardens, Thursday, June 7, 4-9pm, and meet Iris lovers and ask questions of Iris experts while having a pint or two of delicious hard cider, and you will help support the Iris Gardens! It's the easiest volunteer shift you'll ever work. Iris Society of MN will have a table set up to answer all of your burning questions, and T-shirts in multiple colors will be for sale.

When? Thursday, June 7, 4-9pm
Where? SOCIABLE CIDER WERKS
1500 FILLMORE ST. NE
MINNEAPOLIS, MN 55413
https://Sociablecider.com

5. Iris Society of Minnesota annual iris dig

Saturday August 11 7 AM - 2 PM at the Arboretum


6. Iris Society of Minnesota Annual Iris Sale!


"Iris"- from the Greek "Rainbow". Love irises? Come to the Arboretum August 18 and 19 for the unique opportunity to purchase a RAINBOW of colors of rarely seen rhizomes divided from the Arboretum's collection! Bonus: if you sign up at the sale to be a member of the Iris Society of Minnesota, you can participate in the members-only silent auction featuring new introductions! Membership is a bargain at only $10 for two years. Print a membership application here.


Minnesota Landscape Arboretum
3675 Arboretum Dr, Chaska, MN 55318
Saturday, August 18, 9am-4pm
Sunday, August 19, 10am-4pm


7. Iris Society of Minnesota at the State Fair!


The Iris Society of Minnesota will once again have a booth at the Minnesota State Fair in the Horticulture building. Stop by and see us demonstrate how to divide your iris rhizomes, ask any questions you may have, and walk away with a free rhizome to put in your own garden (While supplies last)!

Minnesota State Fair Horticulture Building
1271 Underwood St, Falcon Heights, MN 55108
Thursday, August 23, 9 AM to 9 PM
Friday, August 24, 9 AM to 9 PM
3 shifts per day with two volunteer spots per shift:
-9am to 1pm
-1pm to 5pm
-5pm to 9pm
Volunteeers will get paid admission to the fair plus $10 lunch money.


8. Iris BOGO Sale at NEMMIG
Part two of our annual iris sale, this is where you will find the real iris bargains! All of the rhizomes we have left from our annual sale at the Arboretum will be buy one, get one free, and admission is free to attend this sale. All proceeds go towards growing and maintaining the NE Minneapolis Municipal Iris Gardens. Sunday, August 26th 9am- 3pm (or until supplies last). Fireplace room in Columbia Manor- 3300 Central Ave NE. Minneapolis MN 55418
Find out more about the Iris Gardens:
https://www.Facebook.com/NEMMIG
http://nemmig.org/
---
April 8, 2018
During the spring and summer of 2017, Holly Johnson, ISM and board member, spent countless hours photographing the irises in bloom at the University of Minnesota Landscape Arboretum. Holly uploaded these photos to our facebook page where they were enjoyed by many. Now these photos are also available on this website. Her photos of MDB, BB, IB, MTB, SIB, SPU, and JI have been integrated into the pages of photos that were already on the site. The SDB and TB pictures are shown separately on the SDB and TB pages, here and here. Thank you so much Holly for your many hours of work documenting the iris holdings at the Arboretum.
---
August 10, 2017
Please see the events page for a photo of the 2017 Queen of the Show. After being informed that a seedling could not be selected Best in Show, the judges awarded this honor to I. Tectorum alba which was entered by Jenn Lanz. Due to some technical difficulties with this website, this notice was delayed until now! Our apologies.
---
June 13, 2017
The annual iris show was held on June 3 and there are a few photos here, but for many more pictures please see our Facebook Forum page.
Iris Society of Minnesota Forum
Our member, Holly Johnson, has posted hundreds of photos from the show and also photos from irises blooming at the Arboretum. Some of these irises are NOIDS. Take a look and see if you can help to identify them.

Thanks to Holly for hours of work on these projects.
---
February 1, 2017
The Iris Society of Minnesota is once again sponsoring Cindy Soule in the Art in Bloom event at the Minneapolis Institute of Art. Cindy writes:

"I have a friend I am mentoring so I will be doing two designs this year. The one titled "Untitled" in Gallery 375 will be the one featuring iris. The other one "The Intrigue" in Gallery 371 will be the one I am doing with my friend. Both works of art are in the Modern and Contemporary galleries on the 3rd floor.

I will be doing set up on Wednesday April 26 between 9 am and 2 pm. Wednesday is set up day and it is the least crowded day to see the floral designs... Iris society members are welcome to come and watch the designs in progress on Wednesday or attend at any other times April 27-April 30.

Below are images of the art works I will be interpreting.
Thank you to the Iris Society of Minnesota for sponsoring my participation in Art in Bloom 2017."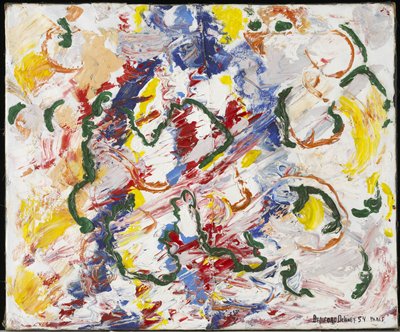 Untitled by Beauford Delaney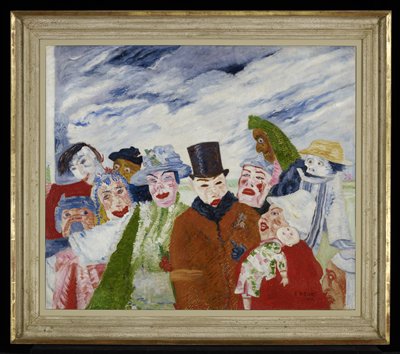 The Intrigue by James Ensor
---
January 15, 2017
The annual holiday party was a big success! See photos here.
---
January 10, 2017
Reblooming iris did very well in the fall of 2016 in many of our gardens. Jack Worel has shared this list of irises that rebloomed for him and when they bloomed:
Again & Again, yellow TB — Aug, Sept, Oct
Autumn Jester, purple IB — July, Aug, Sept
Autumn Tryst, purple & gray TB — Sept, Oct, Nov
Champagne Encore, punch yellow MTB — Aug, Sept, Oct, Nov
Early Harvest, shades of brown BB — Sept
Eramosa Skies, violet MTB — Aug
Eternal Summer, spec., purple TB — July through Nov
Forever Blue, blue SDB — Nov
Juiced Up, yellow-orange SDB — Nov
Low Ho Silver, white IB — Sept, Oct, Nov
Mid-Summer Night's Dream, dark purple IB — Sept, Oct
Misty Twilight, grayed blue-white TB — Sept, Oct
Queen Dorothy, purple plicata on white TB — Sept, Oct, Nov
Red Revival, red, brown, yellow TB — Sept, Oct
Rosaly Figgie, dark purple TB — Sept, Oct, Nov
Unbelievable Love, light blue TB — Sept, Oct, Nov
Zurich, white TB — Sept, Oct, Nov
---
January 10, 2017
The Iris Society of Minnesota received an award from the Horticultural Society for an exhibit at the 2016 Minnesota State Fair. Here is the copy of the letter. It was accompanied by a $30 check.. Good work, Tatiana Allen and all who helped at the State Fair booth!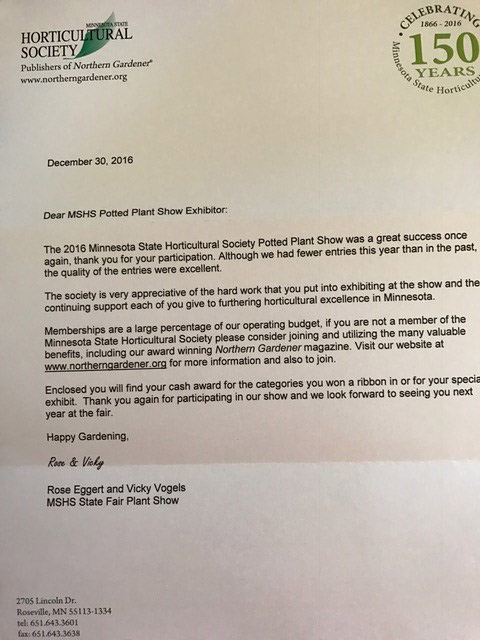 ---
November 21, 2016
Member Holly Johnson has written a comprehensive review of the Schafer/Sacks presentation. Read about it here.
---
October 5, 2016
American Iris Society Region 8 Fall meetings are Saturday Nov. 5 in Madison WI and Sunday Nov. 6 in Minneapolis.
We are very fortunate this year to have as our speakers, Marty Schafer and Jan Sacks, owners of Joe Pye Weed Garden in Massachusetts. Joe Pye Weed's Garden supplies Iris Versicolor, Siberian Iris, and Species and interspecies hybrids. Marty and Jan are leading experts on species iris and are among the elite Siberian Iris hybridizers working today. Their presentation will be on their hybridizing program and will include one hour of judges' training on Species Iris.
Sunday November 6 in Minneapolis starting at 11 AM.
Bachman's Flagship Store and Corporate Office, Heritage Room
6010 Lyndale Avenue South, Minneapols MN 55419
---
November 23, 2016
The annual meeting on November 21 at Byerly's in St. Louis Park was well attended. It was great to see several new members at the meeting. The membership approved the 2016 amended budget and selected officers for two year terms. President Michelle Dreier and Treasurer Tim Moore agreed to serve an additional two years. Andrea Luck will assume the Secretary post, and Tatiana Allen replaces Elsie Riggs as an at-large board member. Thanks to Katerina Bergeron and Elsie Riggs for serving ISM.
Plans are being made for a holiday party, which will take place in January.
---
May 11, 2015
Members are preparing for the annual iris show at Bachman's. See the show schedule here. In other news, ISM sponsored Cindy Soule's Art in Bloom arrangement again this year. See some photos on our Events page.
March 13, 2015.
Region 8 Members of the American Iris Society
The following is a letter from Jack Worel, followed by Region 8 Societies and Iris Judge List, 2015 Iris Show times, and Region 8 Treasurer's Report.
Dear Members in Wisconsin & Minnesota
The Board of Directors of The American Iris Society, at their fall meeting, asked me to convene a Region 8 meeting to select a new RVP for Minnesota and Wisconsin. I have formed a nominating committee which includes Karen Johnson, Wisconsin Iris Society, Elledan McLeester, Madison Area Iris Society, and Michelle Dreier, Minnesota Iris Society.
The Committee has nominated Tim Moore of Apple Valley, MN. Tim is a long time grower and has consented to serve. This selection preserves the tradition of alternating states for our RVP. In addition, Tim is well qualified for the job.
We will meet in Madison, April 18th to elect Tim and officers he selects. See calendar for meeting details. In addition to the meeting there will be one hour of judges training. I have asked Nyla Hughes to do the hour on Judges Training on Show Judging. This will be of interest to our judges and other members who bring flowers to shows. Nyla will continue to be Judges Chair for the region.
Our region has not been very helpful or actively supporting our societies. I would like to talk about this and find a way to improve.
Please set aside time to come to this meeting. I look forward to seeing you. Did I mention door prizes?
Jack Worel, Osseo MN email
MADISON AREA IRIS SOCIETY
President Elladan McLeester
email

WISCONSIN IRIS SOCIETY
President Ramona Keller
email
IRIS SOCIETY OF MINNESOTA
President Michelle Dreier
email
REGION 8 IRIS JUDGE LIST
NYLA HUGHES, JUDGES' TRAINING CHAIR
Region 8 can be proud of their efforts in Judges' Training! Thanks in large part to the tutelage of former Judges Training Chair Jack Worel, six new Garden/Exhibition Judges have now joined the ranks of those qualified to judge iris shows and give helpful advice in selecting worthy cultivars. Congratulations to new appointees!
And thanks to all those who have led training, provided gardens, and worked on shows to provide them with opportunities to achieve this. If you are interested in becoming a judge, please let Jack Worel or me (Nyla) know.
(Some) contact information follows, to aid in planning your shows. All are G/E judges unless otherwise noted. (Also, the board recently voted to allow a retired judge to judge shows on a panel with other currently qualified judges.)
George Bacon, Brooklyn WI email
Mr. & Mrs. Melvin Bausch, Mequon WI (master judges)
Walter E. Doehne (retired), St. Paul MN
Vincent Fox (retired), Mankato MN
Nyla Hughes, Milwaukee WI email
Karen Johnson, Menomenee Falls WI email
Alicia LaMunion, St. Louis Park MN email
Elladan McLeester, Madison WI email
Rob Meyer, Madison WI
John & Barbara Sautner, Bloomington MN email
Carol Jo Shonka, New Berlin WI email
Bonnie Sonntag, New Berlin WI email
Jack Worel, Osseo MN (master) email
2015 IRIS SHOW TIMES IN REGION 8
Minnesota Iris Society. Saturday May 30 Bachman's on Lyndale
Madison Area Iris Society. Sunday May 31. Albrich Gardens, 3300 Atwood Ave. Madison WI
Wisconsin Iris Society. Saturday May 16. Saturday & Sunday
June 6 & 7
Boener Botanical Gardens. Hales Corners WI
REGION 8 TREASURER'S REPORT
As of January 1, 2015 Region 8 had a balance of $2762.75
Ledra Mohrmann, Treasurer
---
February 1, 2015
Whatever would we do if we didn't have winter here in Minnesota? How would we ever get anything else done if we could be in the garden all year? Winter is an excellent time for updating our website, and you will now find the photos of the various irises in alphabetical order. I have also added the hybridizer and year of registration to the large photos.
As the first phase of iris virus wears off, I find that instead of coveting and buying the next gorgeous beauty I see, I am paying more attention to which irises do the best year after year in my garden. I am sure it's not as simple as just who the hybridizer may be, but it might be one factor. I am finding that most of the SDBs do very well here. Of the TBs, the most consistent ones I have include "Before the Storm," "Winter Waltz," "Supreme Sultan," and "Dusky Challenger."
I just received my copy of the Winter 2015 IRISES and it was really fun to see the results of the 2014 AIS Tall Bearded Iris Symposium. I think I need to acquire "Jesse's Song." It is unfortunate though, that only 7.1% of AIS members cast ballots. I guess the ISM is not the only organization that struggles with member participation!
Countdown to spring everyone!! ( MH / webmaster )


---
January 26, 2015
Annual holiday party and Awards dinner
Members of ISM celebrated at PF Chang in Edina on Saturday, Jan. 24 with delicious food and stimulating conversations. ISM medals were presented to Alicia LaMunion and Jack Worel (who was unable to attend). If you missed this event, you missed a lovely evening with congenial companions, and great door prizes. Do plan to attend next year! (See events page for photo).
---
December 22, 2014
Because of scheduling conflicts for several members of the ISM board, the board has decided to change the date for the annual holiday party to Jan. 24. The event will be held at PF Chang in Edina from 4-7 PM. Registration information has been sent to current members.
There will be a Region 8 meeting in Madison on April 18th. Tim Moore will be on the ballot for RVP. There will also be an hour of judges' training on judging an iris show.
---
November 4, 2014
The ISM Annual Meeting was held Saturday, Oct. 25 at the Mississippi Library in Fridley. The 2015 budget was approved. Jack Worel was elected to a two year term on the Board of Directors, replacing Jim Hefling. Alicia LaMunion assumed the Vice Presidency and Marte Hult is now Membership Chair. There will be a holiday party/awards banquet on January 10 and Katerina Bergeron will select a restaurant for this occasion. The 2015 calendar was set, and the society will begin using Constant Contact to reach members by email. Members whose dues are not current will receive a coupon for a free iris for rejoining. After the business meeting, a small but enthusiastic crowd enjoyed learning about raising iris from seed, presented by Jack Worel. If you missed this meeting, you missed possibly the best flourless chocolate cake ever baked, from Cafe Latte.
---
October 23, 2014
New photos have been added to the SDB and TB pages. Take a look!

---
August 22, 2014.
The 2014 dig and sale is now history! It was a successful event, raising more for our society than budgeted. Many people were responsible for this success. Iris were donated by Jack Worel, Tim Moore, Bob Reed, Tony Luce, Jenn Lanz, Marte Hult. If you donated and are not mentioned, please let us know!

Volunteers at the Arboretum set-up on August 15 were: Tim and Gerry Moore, Elsie Riggs, Jack Worel, and Tim and Gerry's granddaughter Lucia and her best friend Grace. Volunteers on Saturday and Sunday were: Tim and Gerry Moore, Jack Worel, Elsie Riggs, Jenn Lanz, Katerina Bergeson, Michelle Dreier and Toni Fundingsland. Thanks to everyone for a great fundraiser for ISM!

---
August 12, 2014.
Over twenty volunteers worked at the iris dig at Holly Lane Gardens Saturday August 9. Photos are posted on the Events page. Now volunteers are needed for the set up and sale this weekend (Aug. 15-17) at the Arboretum. Set-up will start Friday afternoon at 2 PM, and the sale runs Saturday 9-4 and Sunday 10-3. The sale is always a fun time to visit with other ISM members and also a good opportunity to interest the public in irises and our society. Remember that you get free entrance to the Arboretum when you explain that you are there to work at the Iris Society sale event. Email Gerry Moore to volunteer for a shift: Friday setup, Sat. AM, Sat.PM, Sun. AM, Sun. PM.
---
August 6, 2014
Request for Guest Beardless Irises for 2017 AIS convention in Des Moines. Info here.
---
ADDED NOTE: IF YOU ARE COMING TO THE DIG PLEASE RSVP TO GERRY MOORE. time2quilt@gmail.com or call her at 952-431-5140
July 19, 2014
IRIS DIG SITE CHANGE!!!!
Due to the limited number of iris that we could dig at the Arboretum this year, the iris dig will be held at the home of Jack Worel, site of Holly Lane Gardens.
For the new members, Jack is a known hybridizer and long standing member of ISM...you may have some of his iris in your own garden, such as Rush Creek, Greta, Minnesota Pinks, Working Man, Sunny Lynn, or Snow Country...to name a few.
Dig Details:
Date...................Saturday, August 9th, 2014
Start time...........9:00 A.M.
Address.............10930 Holly Lane N, Osseo, MN
In keeping with tradition.......
A light breakfast and crock-pot lunch will be provided. Volunteers will also be rewarded with free rhizomes and there may be a door prize or two.
Due to its success last year, we again will hold a silent auction for several rhizomes purchased from Lauers Iris of Independence Oregon (Larry Lauer, Hybridizer).
Volunteers are needed to make the upcoming Iris sale a success.... it all starts at the DIG. We will dig, label and wash rhizomes to prepare them for the sale.
Looking forward to meeting new faces and old! All are welcome....in fact, bring a friend!
Directions to Jack's house: From I-694, take Hwy 81 North to Osseo, then 6 miles on Hwy 81 to Holly Lane N. Follow Holly Lane around until you reach Jack's property 10930.
Thank You....see you on the 9th! Please RSVP to Gerry.
---

July 7, 2014
Financial statements submitted to the membership
---